STORY
In a world without men, how can a lustful maiden survive? Can a human help her reach Cock Heaven? Experience a world full of erotic demons and goddesses, as you delve into a hot adventure surrounded by women in need of fulfilling their sexual desire.
In this game, you will play a human who got lost and reached the Lost Border, where he meets maidens who have been sent into exile.
Punished for refusing to bear children, Sun Wukong rebelled against the tyranny of Heaven and is now working hard to transport herself and the other Goddesses through the Gate to the Human World.
Slutty souls by nature, she and the other Goddesses are also working hard on getting some sweet loving from the only guy around: you! Deprived of any partner since they were cast away, they now look to you for satisfying them, so don't let them down!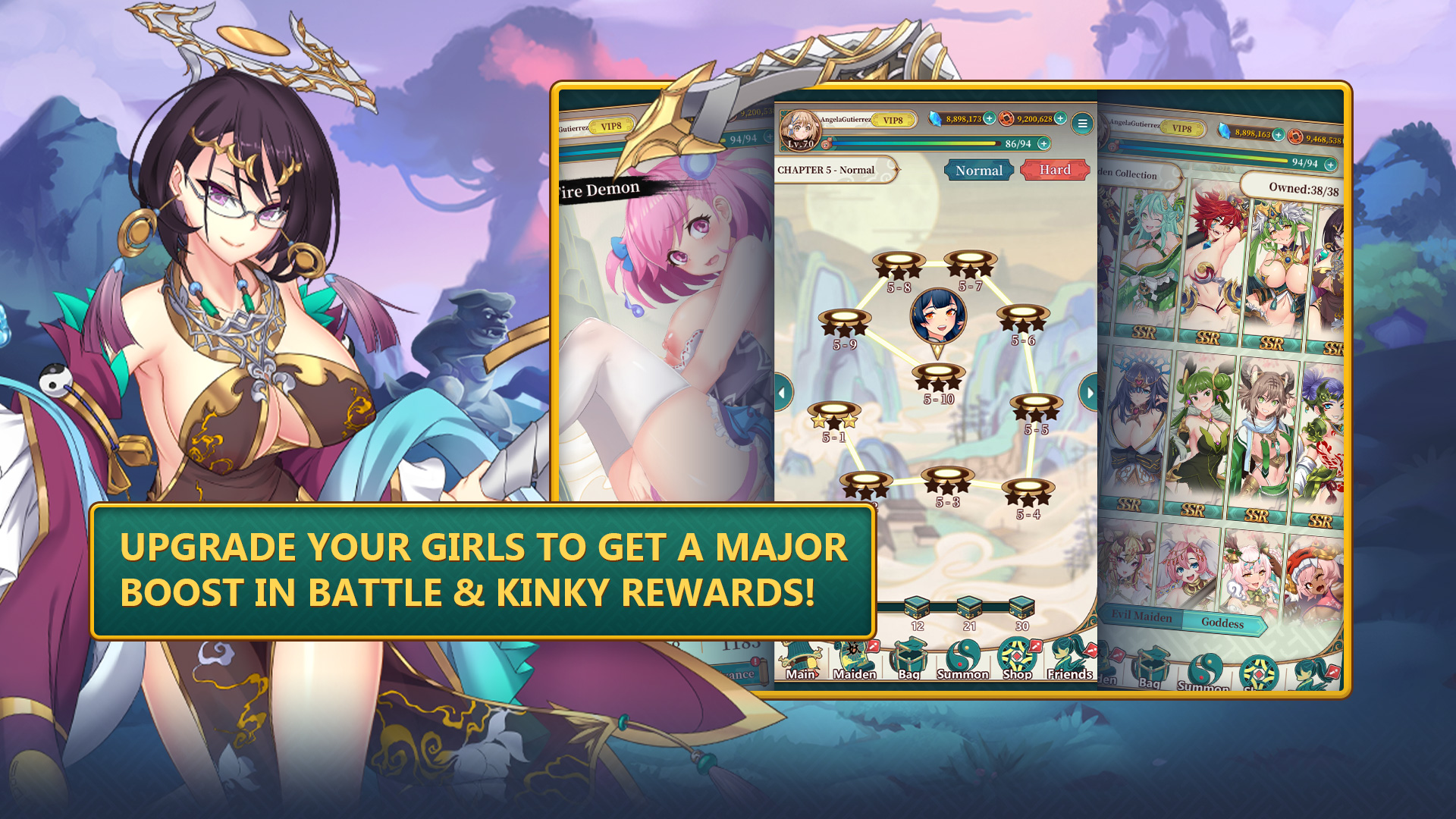 Now that you have arrived, the maidens will use you to recover their strength and pass through the Gate to the Human World. In order to succeed, they will summon other Evil Maidens to defeat the Celestial Troops, the elite guards that defend the gate to the Human World.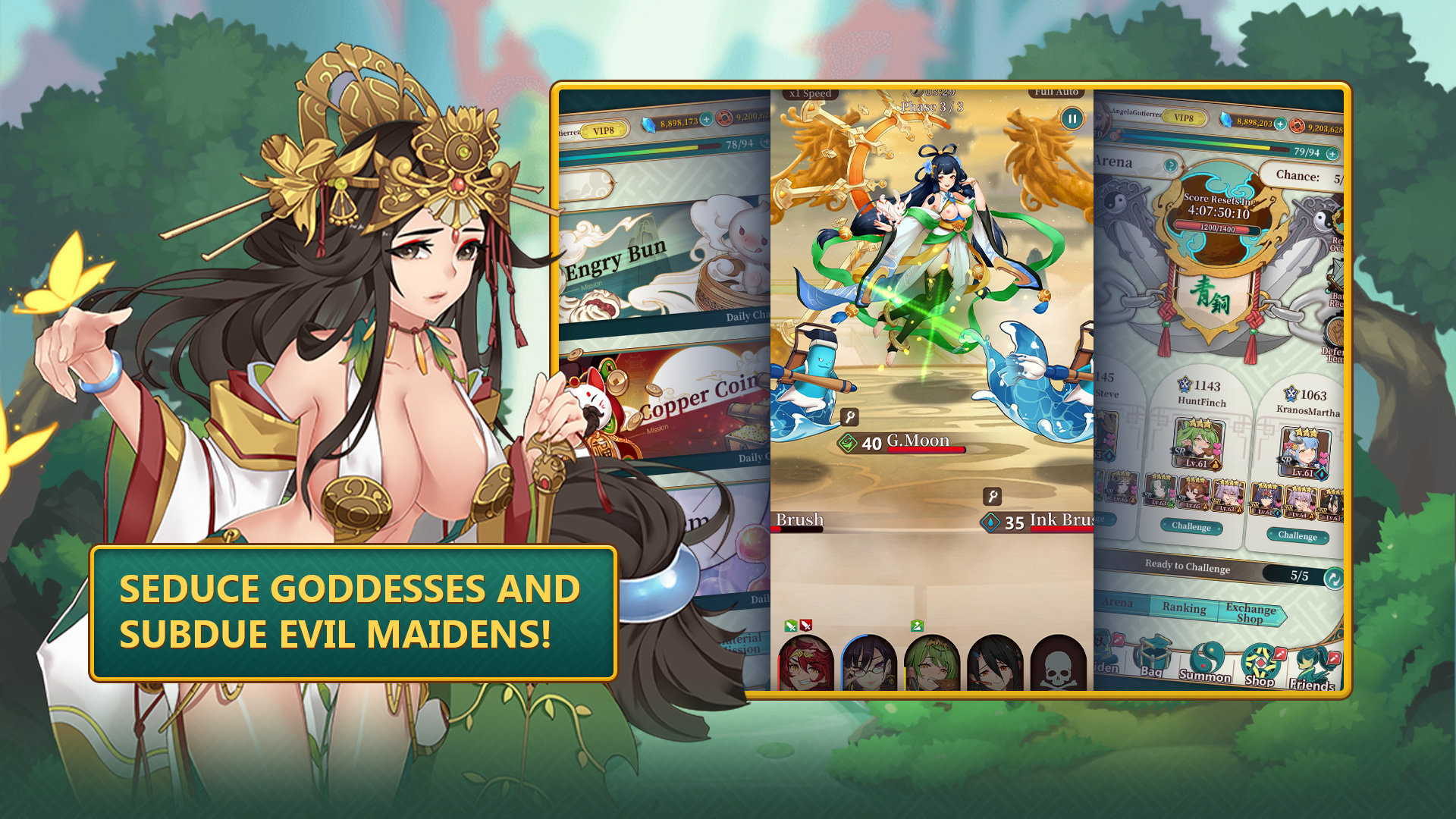 GAMEPLAY AND OBJECTIVES
Your goal is to summon and upgrade maidens who will help you win all the battles and move on to the next level in order to finish the game.
The Stage Section is composed of two difficulties: Normal and Hard. Both Normal and Hard Modes have 5 chapters. In Normal Mode, each chapter contains 10 levels, while in Hard Mode, each chapter contains 4 levels.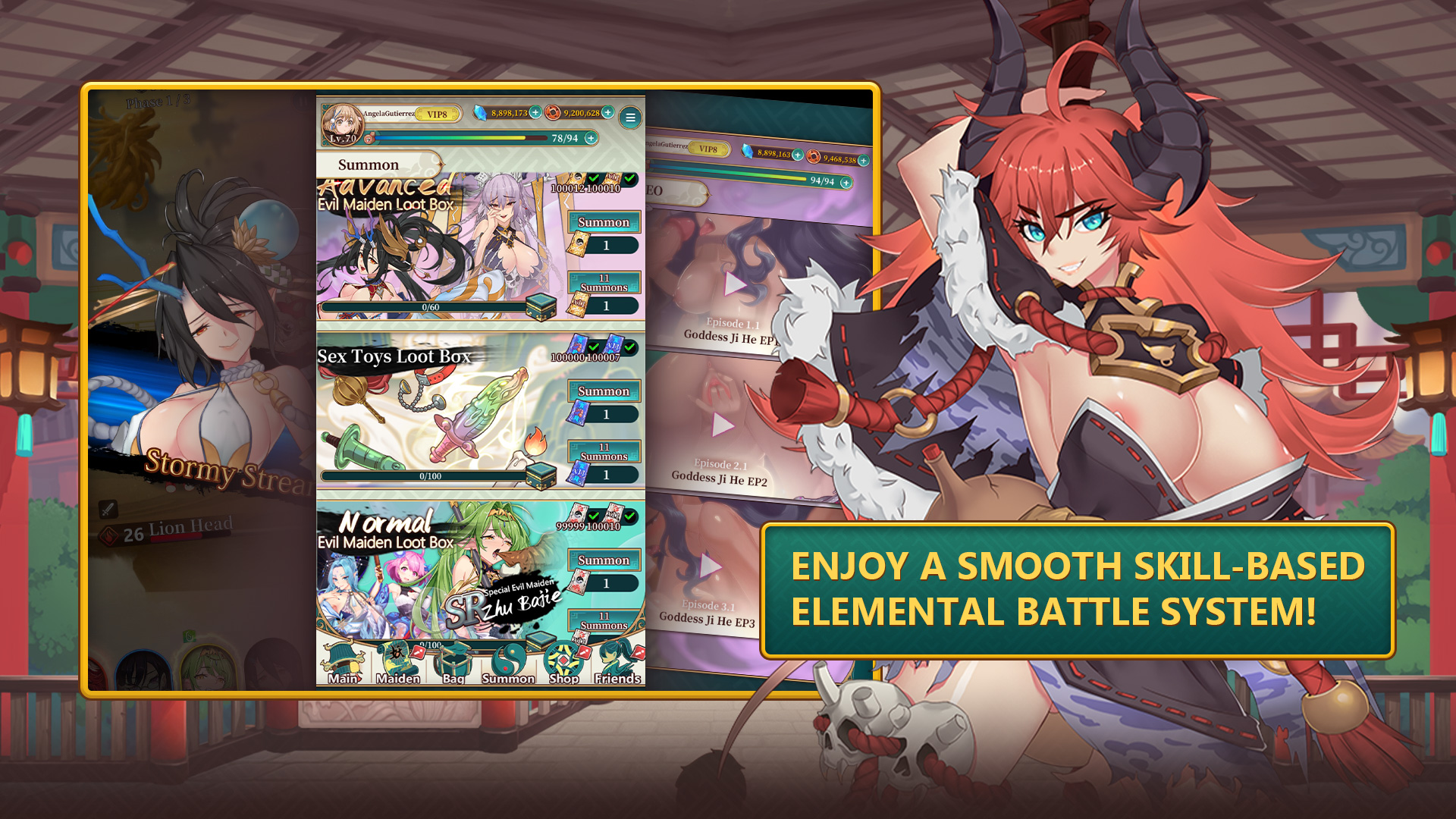 The battle system is element-based, so make sure to check what's required before jumping into battle.
Aside from deciding the elemental combos, you also need to enhance your girls' Combat Power. There are four ways to upgrade your character: Bond, Advance, Level Up, and Evolve. Powering up your ladies will increase their stats and make them more efficient in battle.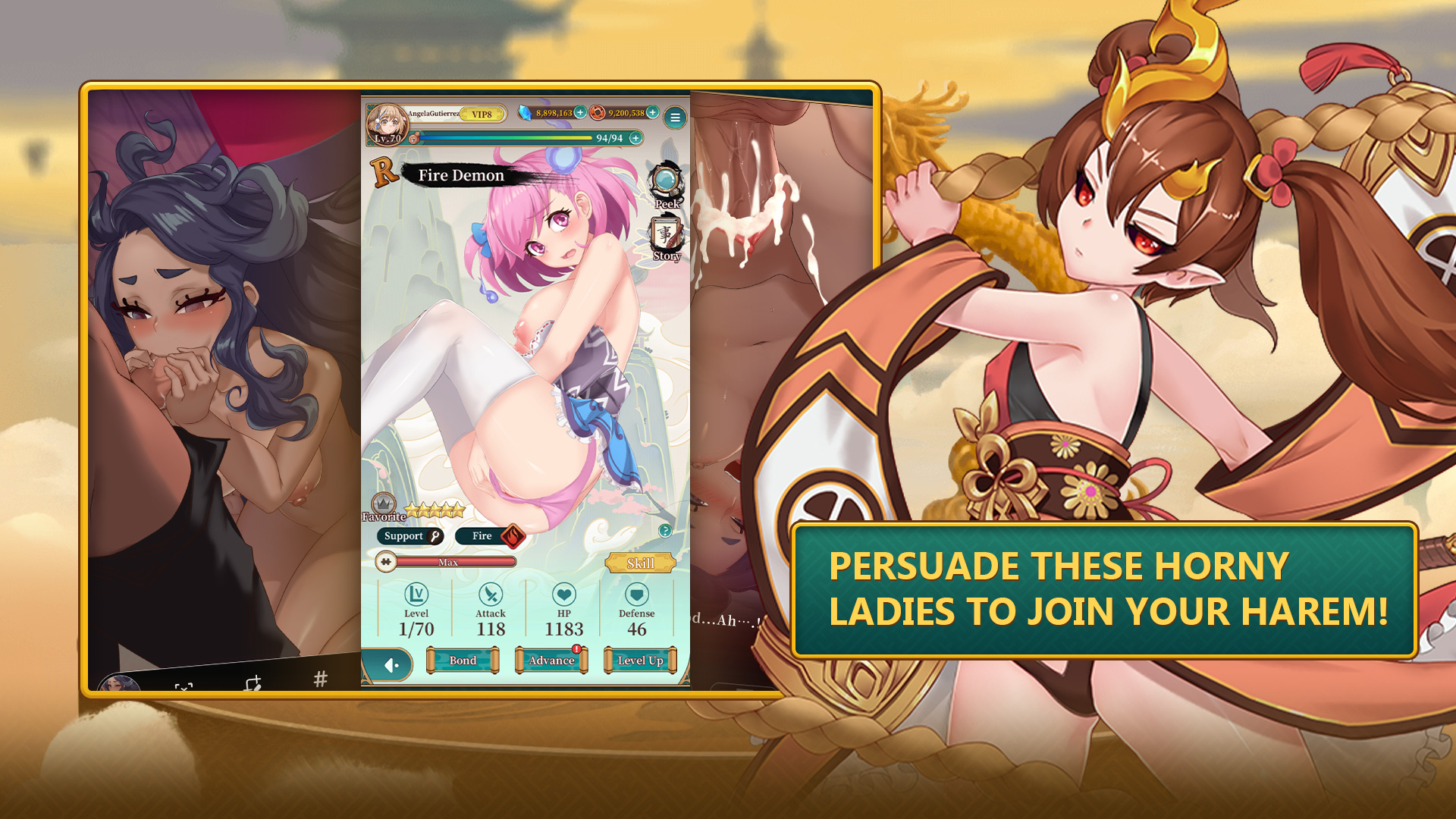 In order for your girls to Advance, you need to gather specific materials and spend some Gold. In order to Evolve, Evil Maidens need fragments, which increase Star Level. The Star Level influences Evil Maidens' skill level. Fragments can be obtained through summoning, playing events, or completing missions. Since each character possesses different skills, you need to analyze each and everyone in order to form a strong unit.
Gear up your lewd ladies, send them into battle, and watch them kick some serious ass!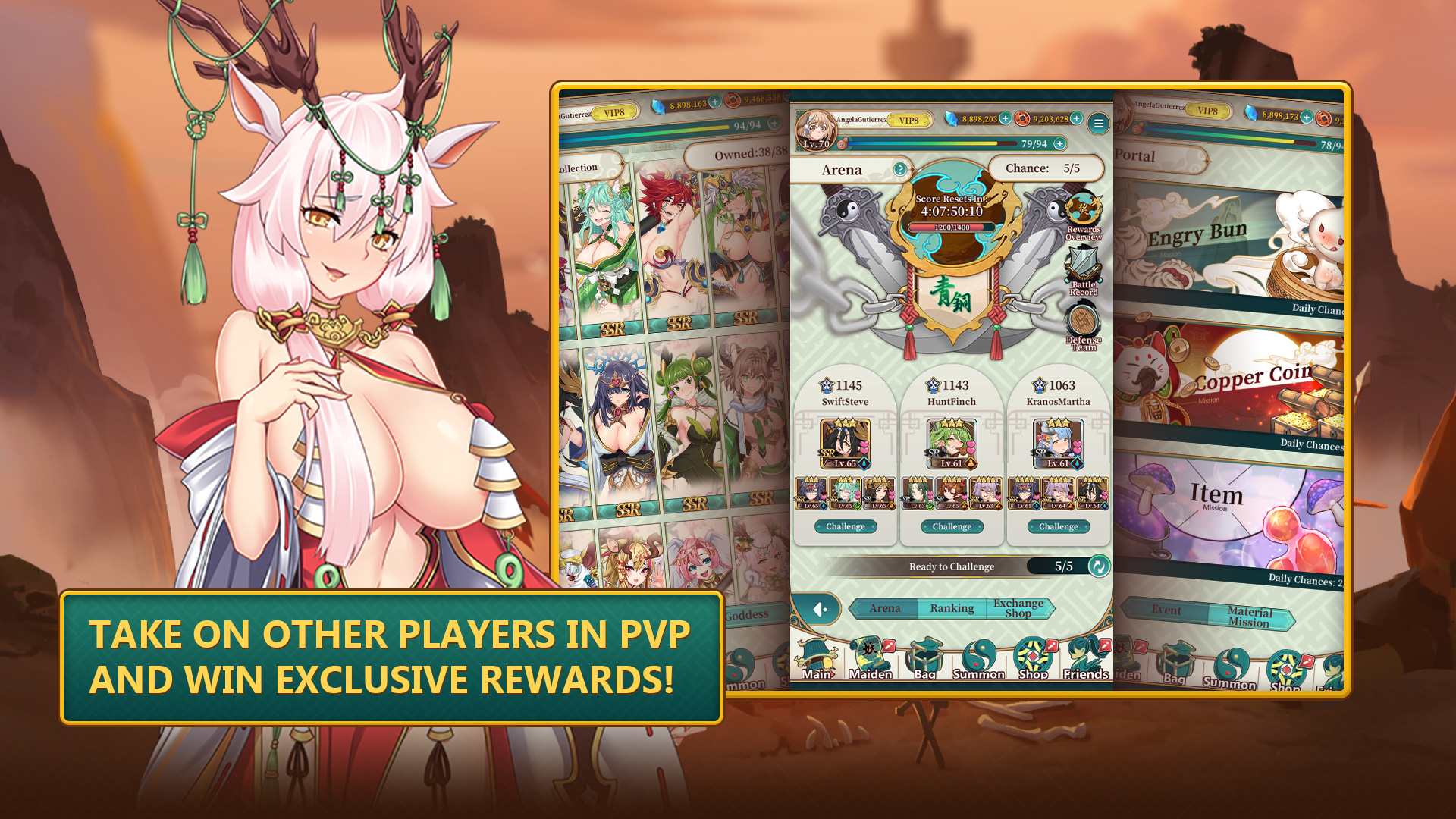 FACTS AND FIGURES
Brave more than 14 Story chapters, with both Normal & Hard mode stages
Seduce gorgeous Goddesses and subdue lewd Evil Maidens
Enjoy professional voice acting for an enhanced Hscene experience
Feast your eyes on beautiful, kinky artwork and varied character design
Strategize your way through various game modes and challenges & make your way to the top
OUTRO
If you're a fan of turn-based RPG and are looking for a new kinky experience, you cannot miss out on the latest fantasy fan-favorite.
Taking inspiration from mythology, Slutty Journey brings fantasy creatures and historical figures to life in the form of the hottest chicks on this side of Cock Heaven.
A huge bonus for this game is the attention to detail: between excellent character artwork and Hscene animations, to engaging sound effects and lewd voice acting, you'll never have a dull moment enjoying the sights and sounds of Slutty Journey.
Begin your adventure as a stranger to the man-less realm of the Lost Border, where maidens of all kinds have been exiled and have to live a sad, sex-less life. But now that their wait is over and their hero has arrived, they can take their time getting you to fulfill their wildest fantasies.
Get to know the denizens of this forsaken land and build up your own harem of hot spirits and sexy monster girls.
With the help of the sizzling hot Evil Maidens (who also want to jump your isekai'ed bones), lead your glorious Goddesses to victory and enjoy the smuttiest journey of your life!

Move over, Will Smith – we've got an even wilder west! Journey To The West is a landmark work of Chinese literature, and one of the most popular works of literature throughout the East Asia – period. Ever since dropping way back in 16th Century Ming Dynasty, the story of the mischievous Sun Wukong and his epic exploits have inspired movies, TV shows, anime, and plenty of video games.
Let's be honest, though – you probably didn't learn about Journey To The West in high school. Your teacher probably thought the books about pig heads and cuckoo nests were more important. So, leave it to your favorite hentai site to teach you a thing or two about classic Chinese literature. Trust us – it'll be worth it!
Journey To The West follows Sun Wukong, a spunky and cocksure monkey that hatches from a rock. (Yes, really.) After mastering 72 secret techniques of combat and transformation, Wukong wages war against the very gods he's supposed to be serving. That proves to be a huge mistake – the gods imprison Wukong under an entire mountain, keeping him trapped there for 500 years.
But after his long and painful confinement, Wukong is freed under one condition. To atone for his rebellion and mischief centuries ago, he must accompany traveling priest Tang Sanzang on his journey to retrieve Buddhist scriptures from India. If he plays nice, Wukong will get his soul redeemed and earn back the respect of all the gods that punished him.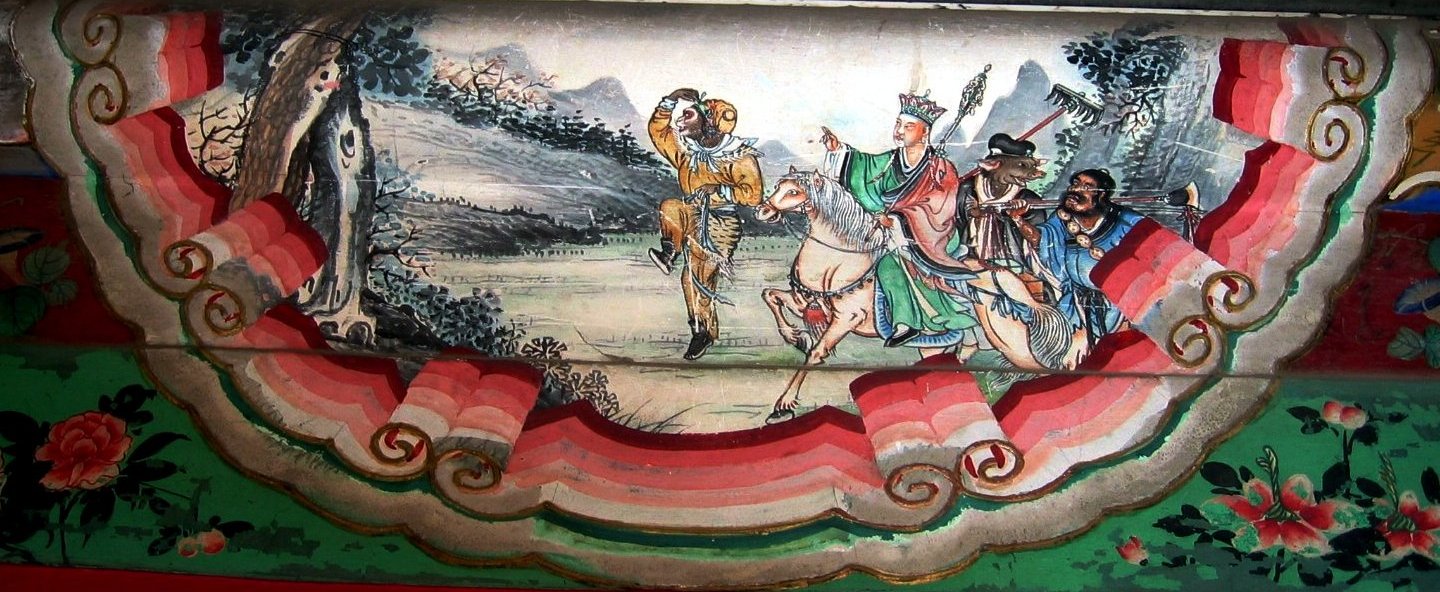 So begins a sprawling epic told across thousands of pages filled with mystical action and adventure. Journey To The West is filled to the brim with weird and wonderful characters and told across a dreamy reimagining of the footpaths from China to India.
Even hundreds of years later, it's just as magical and mystifying today as it was back in the Ming Dynasty. The basic story – a hero traveling with a motley crew of friends on a quest for personal redemption – is a universal story that almost everyone can take something away from.
That's exactly why so many people adopt the story to this day! Martial arts superstars like Donnie Yen and Jackie Chan have taken on the role of the iconic monkey king, and the story has been adapted into everything from a hit '70s BBC series to a '90s anime series that briefly aired in America. There was even a hit 2007 stage show by multi-talented musician Damon Albarn inspired by the story!
Then there are the video games. The earliest major example of a Journey to the West game hit arcades in 1984, and from there, developers have iterated on the concept in some major ways. In the following decades, the story would be adapted into side-scrolling shooters, epic role-playing games, and even splashy AAA cinematic experiences.
From literal adaptations to parodies to far-flung futuristic reimaginings, every developer under the sun has taken a crack at the classic. And if that's not enough, you can catch references to Journey in everything from niche classics like Lunar to modern hits like League!
But… where does this fit into Nutaku? We are just so happy to host a few games from Chinese developers that make liberal references to Journey. One of these games isn't just content to reference the story, however – it tries to adapt the whole thing! So, if you're interested in an erotic twist on this epic work of Chinese literature, or if you just have a hard time reading without porn, you might want to make sure Slutty Journey is on your radar.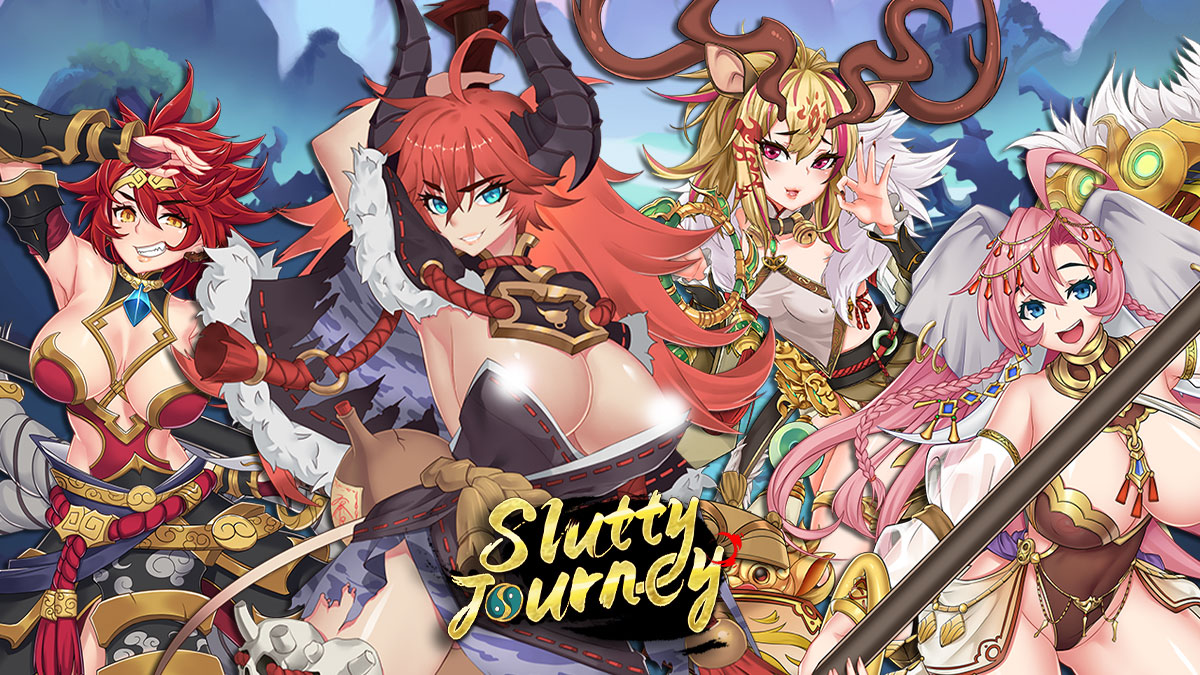 Slutty Journey is the same Journey to the West you know and love… just a lot hornier! Every single character gets their gender-flipped and their clothes ripped in this slick, sexy turn-based RPG. Go on a righteous quest for sexual liberation, and rebel against the gods' puritanical, blue-balling ways. Be the leanest, meanest slut you can be and show the gods that girls just wanna fun… by getting mind-blowing orgasms.
That's the beauty of Slutty Journey: it takes a multi-thousand-page work of classic literature and condenses it into a tight little package for you to enjoy. It's a great entry point to the myth, and honestly, just a great RPG in its own right. If you're interested in a new spin on an old classic, it's available now on the Nutaku Store.
Journey to the West is just one aspect of history that makes up the Nutaku storefront. We've got games that adapt classical literature, reimagine real-world historical figures as sexy fantasies, and even games that let you get lost in a different time altogether. So remember – just because you're getting off doesn't mean you can't learn a thing or two!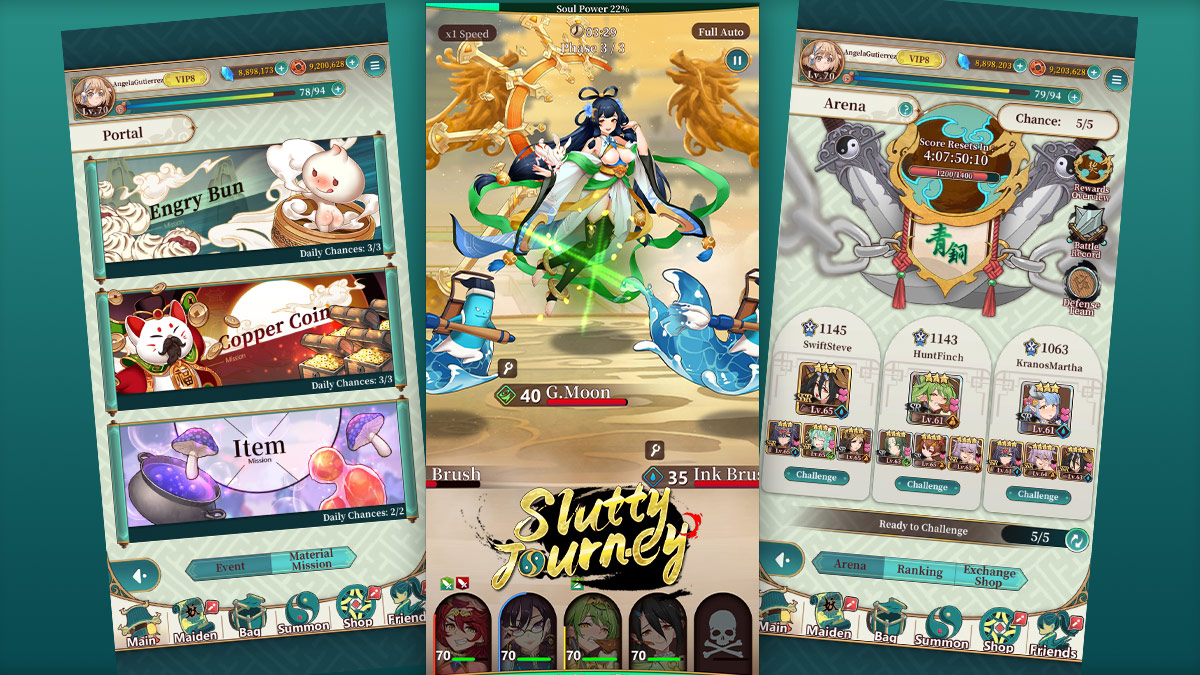 You can play Slutty Journey for free on Android. Journey to the West is free and in the public domain.