A new urban fantasy title "Sexy Exile" from developer 3X Entertainment has been launched.
The Android-only adventure places the player as a protagonist spending life with "celestial beauty" Analea. Suddenly the player is exiled to Earth, condemned to hunt down the demons corrupting the minds of men, only to discover that the Earth is populated by numerous ladies as gorgeous and sensual as Anaela. Players can take the game's girls out on dates, collect precious loot and get to know their life on Earth before getting naughty with the ladies.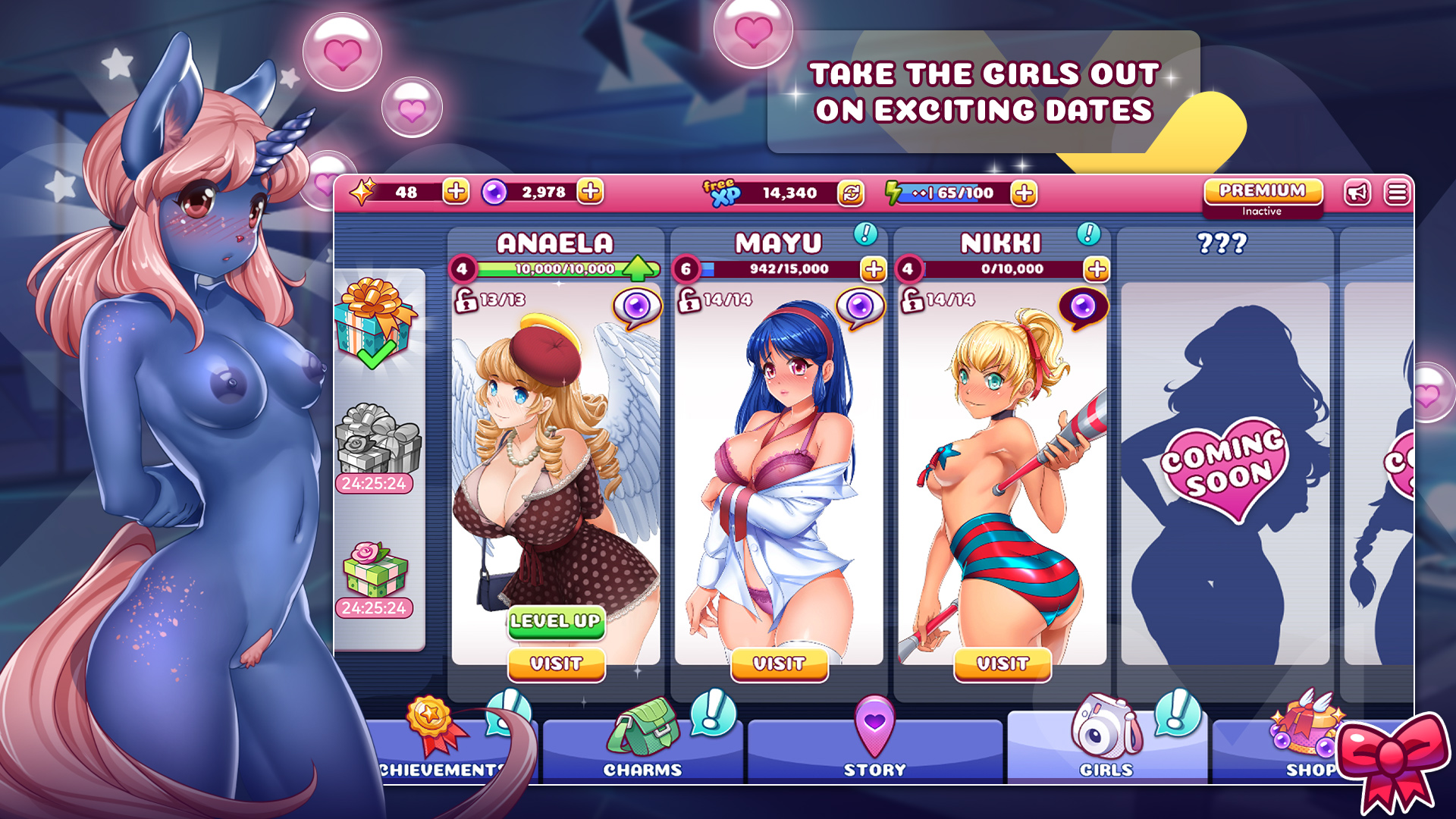 The key features of "Sexy Exile" include two different modes: in "XXX Mode," players navigate levels packed with pickups and obstacles and unlock a multitude of sex scenes, while in "Date Mode," players are presented with a strategic board game they have to maneuver through with their dates across various locations.
Additional features include Power-Ups, where players acquire charms charged with powerful magic to turn situations in their favor and help them reach goals faster; Visual Novel, an expansive adventure through the ladies' individual stories; and Naughty Content that allows players to level up the girls and progress in their stories to unlock animated sex scenes.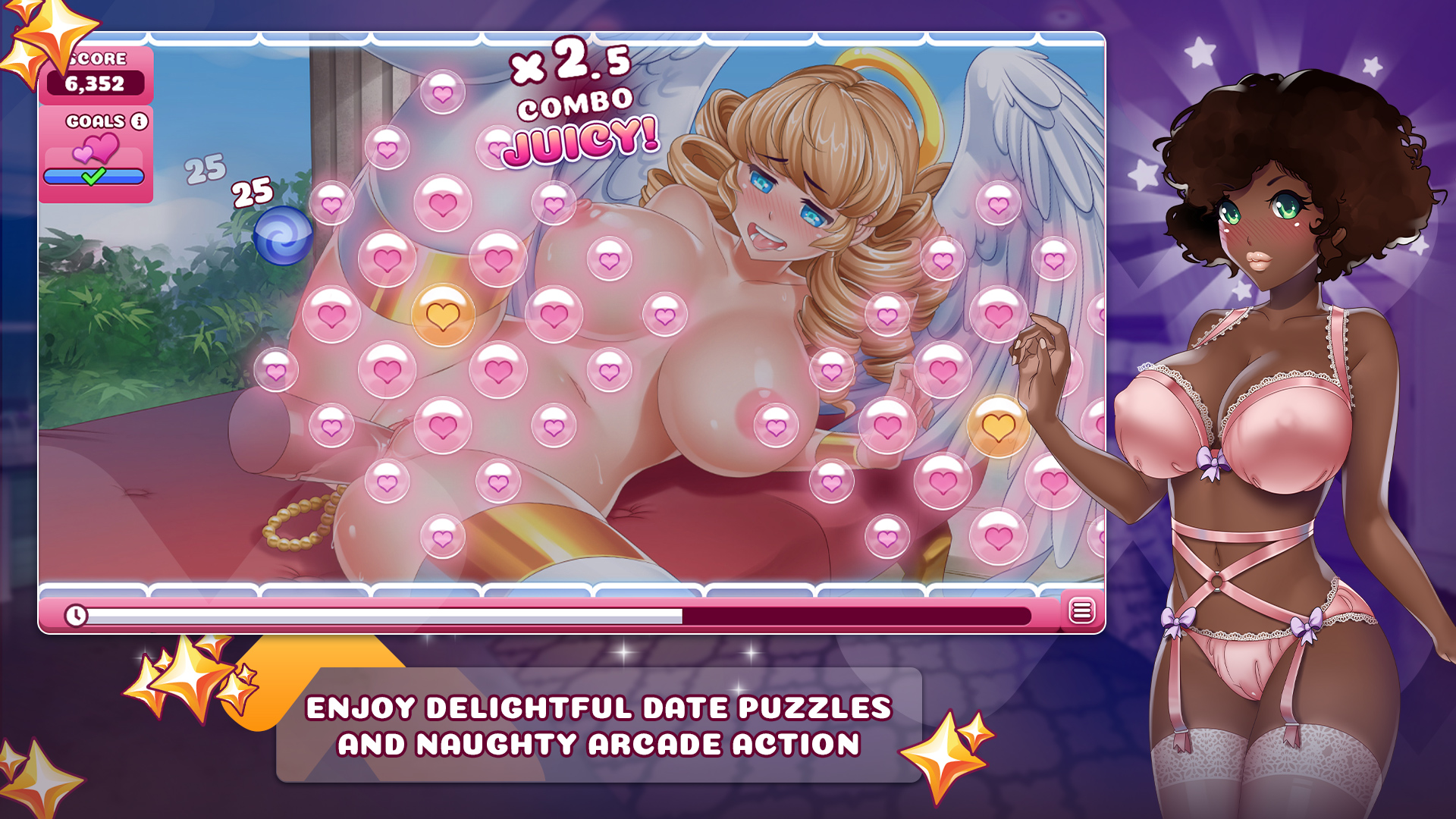 Summary of Game
Your carefree life in the heavenly realm is abruptly ended when you get caught fucking Anaela – your Boss' daughter. Exiled to earth, you are now condemned to do the dirty work: hunting down and taking out demons corrupting the minds of men.
To your surprise, the girls walking the earth are just as cute and sexy as Anaela, the celestial daughter, so why not enjoy your time down here? Take the girls out on exciting dates, get to know them and their life on earth before you finally get naughty with them in all the ways you can imagine! With a little luck, you might even track down one of the mysterious demons among them.
GAMEPLAY AND OBJECTIVES
Join the good old kinky fight and challenge your strengths and abilities to advance through a captivating storyline. Collect precious loot, seduce all the girls you meet in your way and unlock their secret kinky stories.
Key Features
FACTS AND FIGURES
XXX MODE
Navigate challenging levels packed with pickups and obstacles, while making sure the girl won't forget you anytime soon. Blow your load and collect loot based on your performance to ultimately enter each girl's challenge mode, where you can fuck her silly while unlocking tons of lewd goodness.
DATE MODE
A strategic board game in which you maneuver through dates across various locations to deepen the bond with the girl of your dreams. Lots of different pickups, handcrafted levels, additional spicy dialogue, and exciting rewards await you on your journey.
POWER-UPS
Acquire mighty charms charged with powerful magic. Upgrade them and put them to clever use to make the best of any situation and reach your goals faster.
VISUAL NOVEL
Each girl has an expansive and compelling adventure laid out for you. Get your shy neighbor to open up to you, discover how flexible circus performers can really get, and meet many more hot and horny girls from the earth…or beyond! Rest assured, there's something for everyone in the world of Sexy Exile, just waiting for you to get your hands on.
NAUGHTY CONTENT
Sexy Exile is packed with high-quality content. Level up the girls and progress in their stories to unlock tons of animated sex scenes, daring outfits, and naughty stickers. Visit your girls to change their outfits, inspect your findings and enjoy their sex scenes with multiple speed settings and without distractions. Expand your gallery and complete your collection!
OUTRO
If you're on the lookout for an exciting new game with delightful date puzzles and naughty arcade action, you've come to the right place!
Sexy Exile combines classic visual novel elements with strategic and skill-based gameplay that feels constantly rewarding. A slew of sexy treats awaits you at every step, with tons of lewd unlockables up for grabs throughout the levels.
The best part of it is that evil has never looked this good: the amazing artwork and animations, coupled with the expansive storytelling of the dating sims are bound to keep you entertained for hours at a time.
If you treat your girls right during your dates, you'll be rewarded with the hottest, dirtiest Hscenes this side of heaven. These devilish creatures are sure to make your time on Earth worth it, so enjoy your sexy exile to the fullest!