There's a funny thing about breaking the law. If you're the one making the laws, none of them really apply to you! With enough money, you can buy neighborhoods, city blocks, and even entire cop shops to sic on the people that live in all of them. As it turns out, capitalism isn't about competition – it's about having enough money to make sure there isn't any!
That's what we've learned from Sin City Deluxe so far, anyway. The business sim puts you in the role of a bonafide Richie Rich – a dapper and sexy young businessman ready to lie and steal his way to the top. With the help of your ill-gotten gains and a sizable army of henchmen–… erm, business associates, you'll take over a sprawling metropolitan city block by block until it's all yours. Do protestors take to the streets? Do people refuse to vacate the premises? Dial-up the coppers or rain hell down on them with an assault chopper!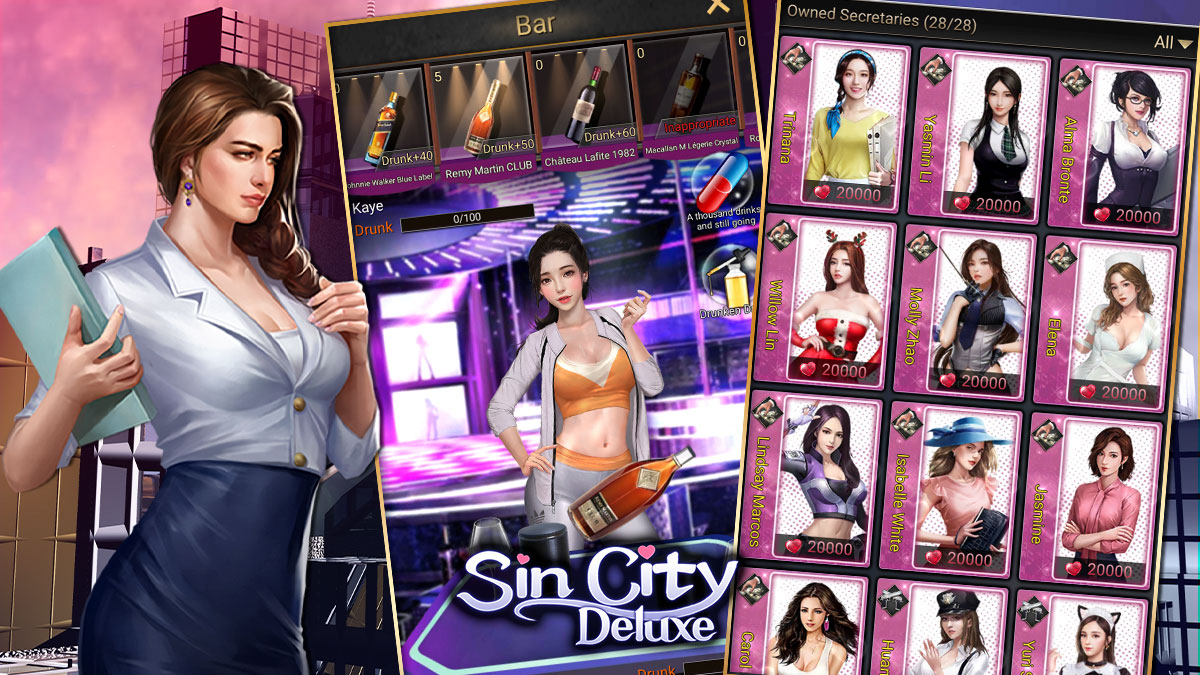 Yes – you're the businessman Patrick Bateman wishes he could be!
When you're not building your empire, you'll corner business enemies in boardrooms and strongarm them into giving you even more money. Broker powerful deals with major corporations to bring big sponsors to your fair city, and gobble up rival companies to gain an even stronger monopoly on the world's markets. It's just like real life!
In your downtime, get cozy with a whole posse of brilliant, stunning women ready to be wined and dined. Take your closest allies out on the town for lavish dinners and expensive tricks, then "wow" her with gifts that only daddy's money could buy. Once she realizes that you're the real deal, you can take her home and see where the night leads. Play your cards right, and she just might let you see something way more precious than diamonds…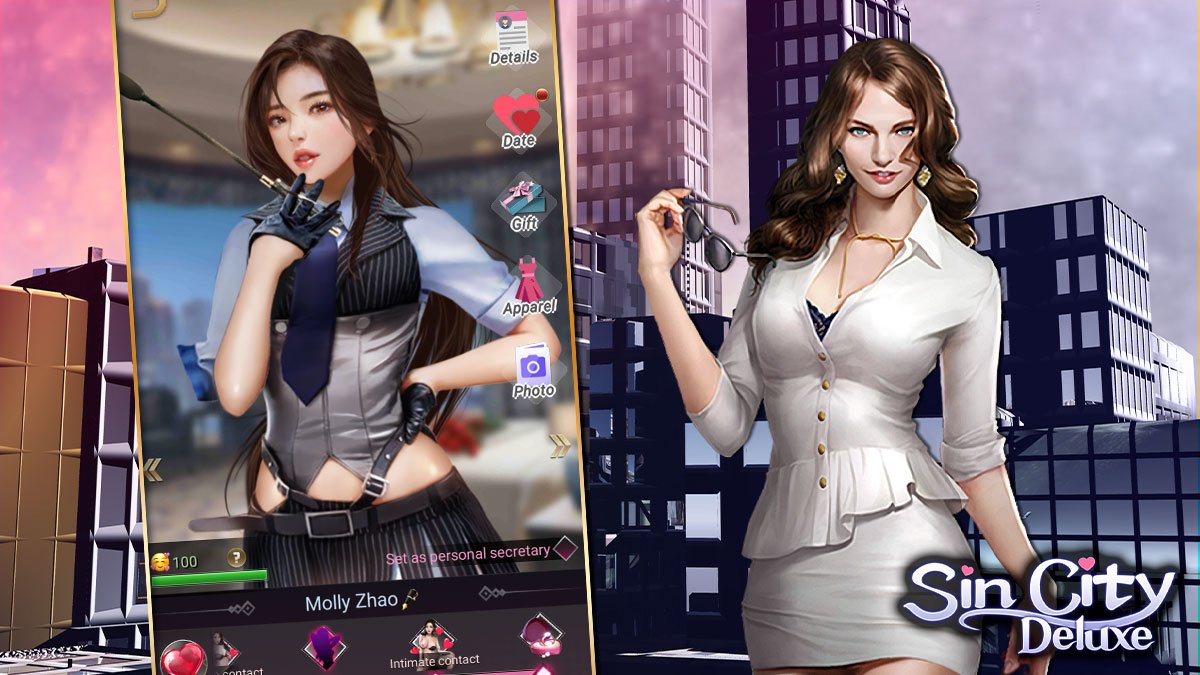 Sin City Deluxe has fully-interactive, fully-animated sex scenes with 2D animations of gorgeous, realistic girls. Some of these unfold in spicy VN cutscenes, with sexy dialogue leading into hotter and hotter action. Other times, you'll get put in the thick of things – tapping your way through intense sex scenes and making girls cum with your fingertips.
(And let's be real – you probably need a little work on that anyway, champ.)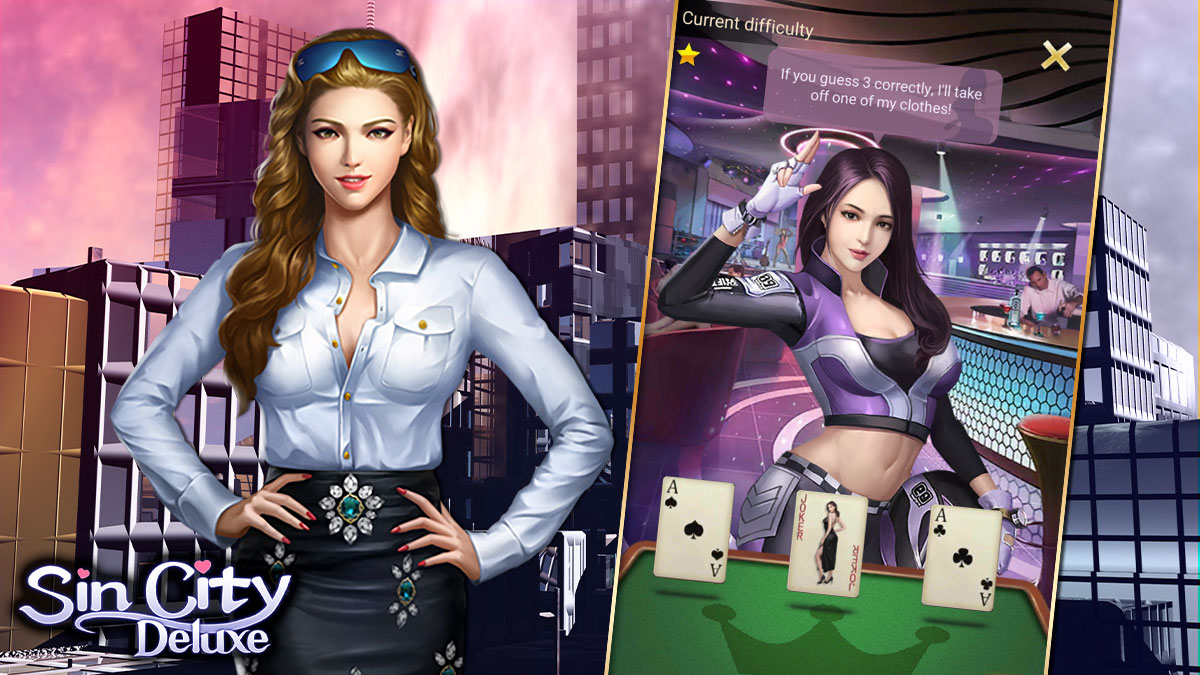 What makes all of this work together is that Sin City Deluxe, somehow, manages to pace it all out perfectly. There's an eclectic blend of RPG battles with boardroom negotiations, action with the first-person shooter sections, and strategy with the city-builder elements that all inform each other. You never feel like you're doing too much of one thing or another, and there's always a pretty straightforward objective for you to follow. If you stay on top of everything the game wants you to do, you're never going to be too overwhelmed – and you're always going to be busy!
Do you have what it takes to break bread with society's biggest sociopaths? Or are you destined to be crushed under their boot with the rest of us? Find out in Sin City Deluxe – available now from Nutaku on Android!

Summary of Game
In the city of Sin, all the fantasies that you can dream of can be yours! Sexy secretaries, cute lovers, hot babes all with their nudes waiting for you to collect!
You could be the richest man in the city… become a billionaire with all the power to develop your own property!
It's all about business! You need to gather a team of sharp minds, and the brightest brains to rule the business world. Choose your favorite sexy secretary, and recruit all the best talent into your team. You can pitch any project when the time comes!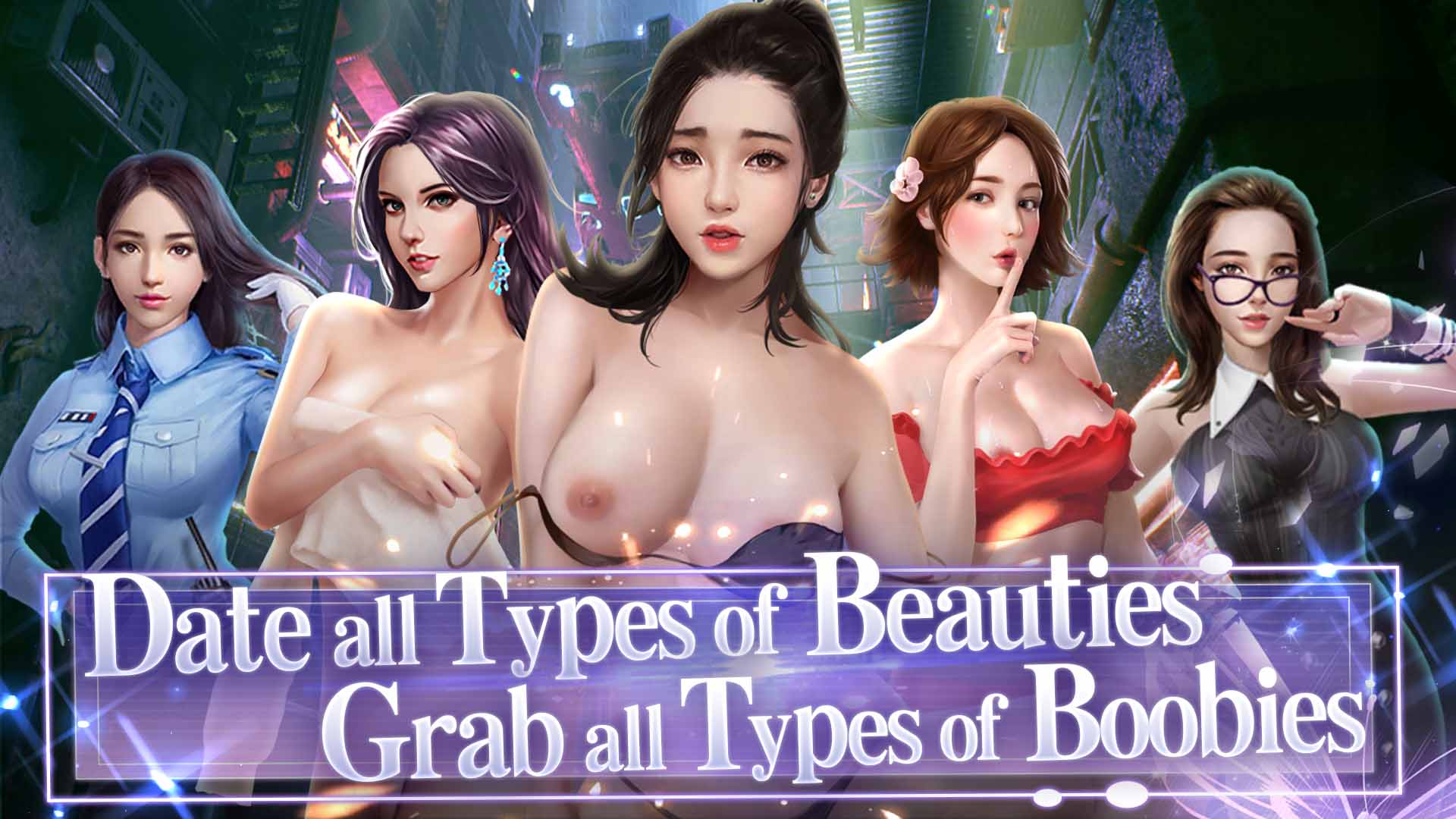 Key Features
-Multiple Diverse Storyline –
In Sin City, you will have to choose your words and actions carefully. A single mistake may lead to a totally different outcome! Each step you take in the game may lead to different rewards, all depending on your decision-making.

-Real-life PVP Pitch –
One Project could only be pitched by one team! The business world is cruel, but if you want to be the best of the best, you must gather your smartest team to win the pitch against other players!

– Erotic Dialogue –
Build your status and claim your name, your encounter with different secretaries can give you one of the most erotic experiences ever.

– Over 28+ sexy ladies –
Sin City is full of hot beauties with an intelligent mind. Over 28 sexy ladies, from Hot Blondie to cute maiden, all waiting for you to hire them, and serve you in all ways.
– Dynamic Game Style –
Your style of gaming could be varied with your own favorites! Be a Billionaire, richest person on the server, or live your dream and be a womanizer with all the sexy ladies, all up to your choice !